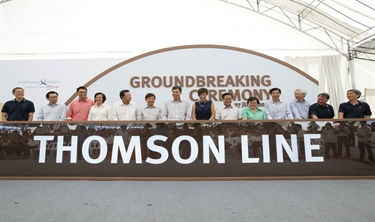 On 27 June 2014, the Land Transport Authority (LTA) celebrated the groundbreaking of the Thomson Line (TSL) with Minister for Transport Lui Tuck Yew and some 800 community partners. Linking with the rest of the network, TSL is our sixth MRT line with 22 stations and 6 interchange stations. During the ceremony, Mr Lui highlighted how the 30-kilometre underground line will contribute to our rail network in several important ways. He said: The TSL marks yet another milestone towards realising our Land Transport Master Plans vision to double the length of our rail network.When fully completed in 2021, an estimated 400,000 commuters can look forward to TSL stations at their doorstep.
Read Minister for Transport Lui Tuck Yew's full speech here.
LTA news release: Groundbreaking Celebration for Thomson Line
LTA news release: Thomson Line Station Names Finalised
Click here to view more photos from the event.