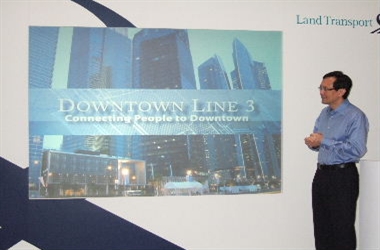 Minister for Transport and Second Minister for Foreign Affairs, Mr Raymond Lim visited the One-North MRT Station on 20 August 2010. The alignment of the last phase of the Downtown Line (DTL3) has been finalised. There will be a total of 16 stations, which will start at Chinatown station, pass through the industrial estates of Kallang Bahru and Ubi and the residential areas of Bedok and Tampines, before ending at the Expo. The three interchange stations along DTL3 will give commuters fast and reliable direct connections to the heart of the city and the developments in the Marina Bay area. DTL3 will also offer commuters in the eastern part of Singapore, who are currently not served by the rail network, an alternative transport choice.
The 16 stations of DTL3 include a new station Jalan Besar which was not in the original plan. This was added to meet the needs of workers commuting to and from the nearby industrial estates and other future developments in the area. LTA expects now to complete DTL3 in 2017. When fully operational, the DTL is expected to serve half a million people daily.
You can read Ministers speech here.
For more information on DTL3, click here.