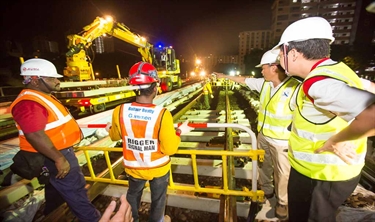 About one-third of sleeper replacement works along the North-South Line (NSL) has been completed. The early closure of stations five nights a week has helped to speed up the works. We expect to finish the works along the NSL around the middle of next year, said Minister for Transport Lui Tuck Yew during avisit to the sleeper replacement site between Bishan and Ang Mo Kio stations early this morning (1 Jul 2014). This would bring the speed of the train back to what it was before. Minister Lui added thatfrom around the fourth quarter of this year, commuters will find the travel time for their journeys being shorter than what it is today.
Click here to view more photos of the site visit.

Watch video on sleeper replacement programme.