In line with social and demographic changes in our society, we implement initiatives to provide better access for diverse groups such as the elderly, wheelchair users and families with young children. These measures also contribute to a more liveable environment for our community as a whole.
MRT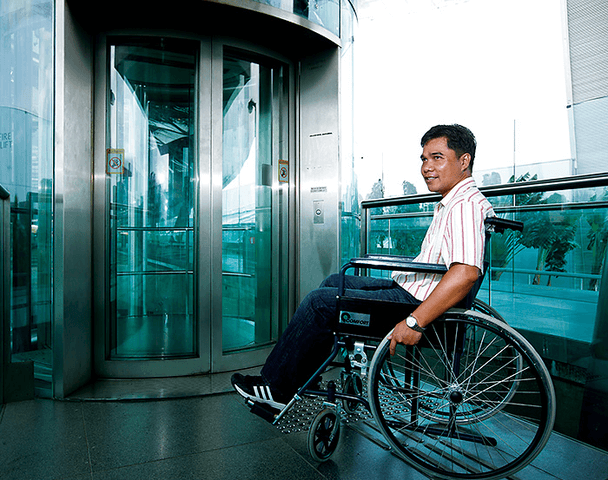 Since 2006, barrier-free facilities to assist the elderly and persons with disabilities have been made available within all MRT stations. All of our existing MRT stations now have at least one barrier-free route with a lift, tactile guidance system and wheelchair-accessible toilets.
With the installation of ramps and additional lifts at 16 MRT stations completed in 2011, more than 85% of existing MRT stations, including the new Circle Line stations, have at least two barrier-free access routes.
LTA is in the process of implementing other initiatives to make our infrastructure more user-friendly. Lifts have been installed at six pedestrian overhead bridges next to MRT stations to improve barrier-free accessibility to major transport nodes, with another 41 lifts to come.
Bus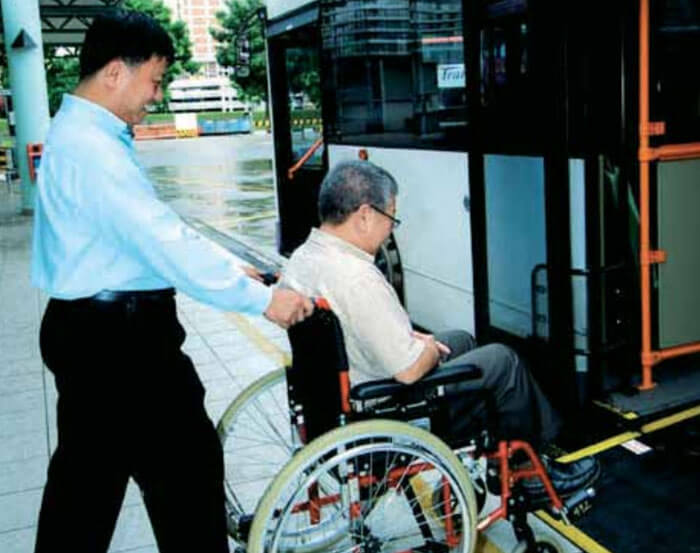 From 2006, all new public buses registered in Singapore have to be wheelchair-accessible. These buses will be introduced progressively to replace the existing fleet of buses. Currently, more than half of our public buses are wheelchair-accessible and the intent is for the whole fleet to be wheelchair-accessible by 2020.
Since 2009, LTA has also mandated that all new bus stops be designed for barrier-free access. Presently, 95% of our bus stops island-wide are already barrier-free accessible.
Pedestrian Facilities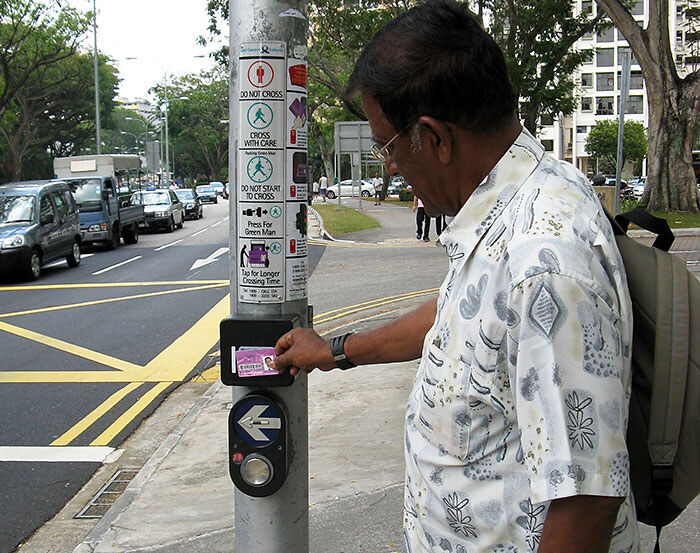 Barrier-free measures on roads and road-related facilities are important to make it easier for the less mobile, including wheelchair users, to move about on the public streets and to use the public transport system.
In March 2011, LTA completed the Barrier Free Accessibility Programme, a $60 million islandwide programme to make our public transport facilities more accessible to everyone, including those with disabilities such as wheelchair users, persons with visual impairment or the elderly. Under the programme, all public roads and 95% of the following are now accessible or barrier-free:
pedestrian walkways
access to MRT and LRT stations within 400m
taxi and bus shelters
In addition, to allow the elderly and pedestrians with disabilities more time to cross the road, LTA will be expanding the "Green Man Plus" (GMP) scheme, which already covers 256 pedestrian crossings, to about 500 pedestrian crossings by 2015.