COVID-19 Measures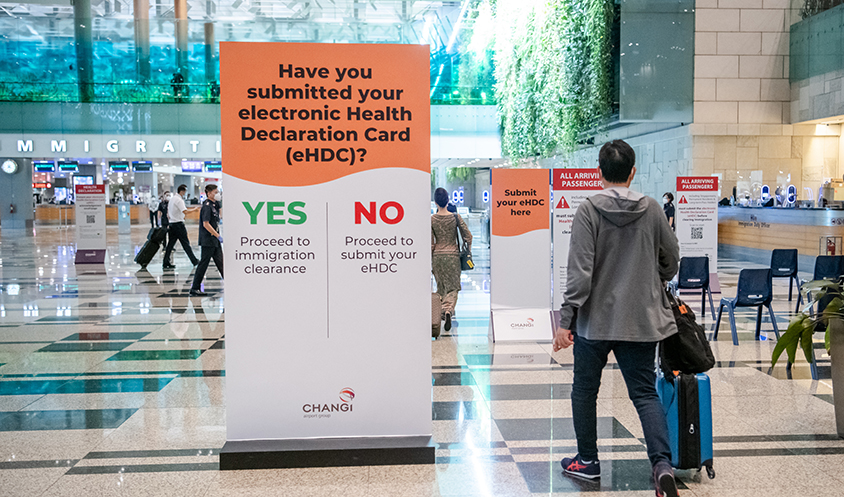 Public Transport
To provide a safe commuting experience, our public transport operators have put in place a comprehensive suite of safe management measures (SMMs) on public transport. Our public transport operators have continued with their stepped-up cleaning and disinfecting regime for trains, buses, train stations and bus interchanges, especially for high contact areas. Antimicrobial coatings are also applied on our public transport. Hand sanitisers are also provided at all bus interchanges, MRT stations and integrated transport hubs.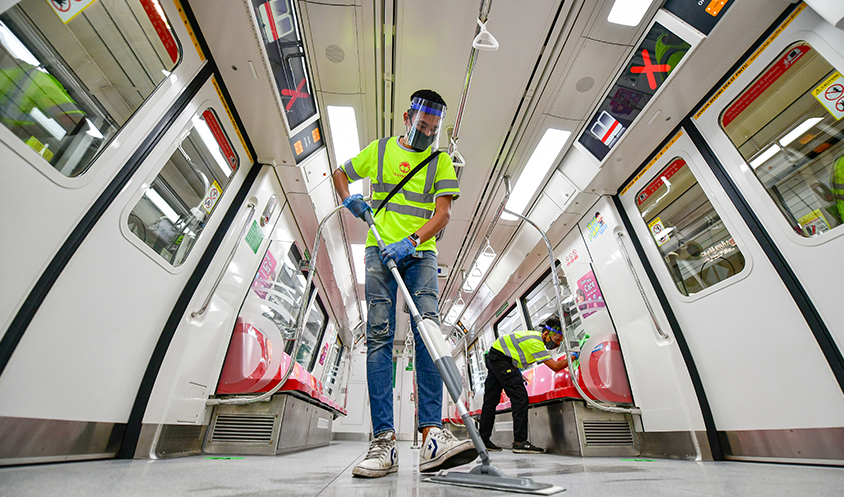 In addition, commuters are required to keep their masks on while onboard public transport. Commuters are also encouraged to travel during off-peak periods where possible.
A 2020 study by the Agency for Science, Technology and Research (A*STAR) concluded that these SMMs, together with the ventilation systems and natural fresh air intake on public transport, are effective in keeping the risk of COVID-19 transmission low.
Learn more about LTA's measures for COVID-19.
Taxis and Private Hire Cars
We safeguarded the well-being of our taxi and private hire car (PHC) drivers amid the COVID-19 pandemic, and supported them financially amidst lower ridership levels.
Safeguarding the well-being our taxi and private hire car drivers during COVID-19
Taxi and PHC drivers continue to do their part by getting vaccination and booster shots, and practising good practices such as washing/sanitising their hands frequently, winding down their windows after every trip, stepping up the cleaning and disinfecting of their vehicles, and going for contactless e-payment modes as far as possible. While wearing of masks in taxis and PHCs is no longer mandatory, drivers and passengers are encouraged to continue to mask up to protect themselves and others, especially if drivers are ferrying passengers who are unwell.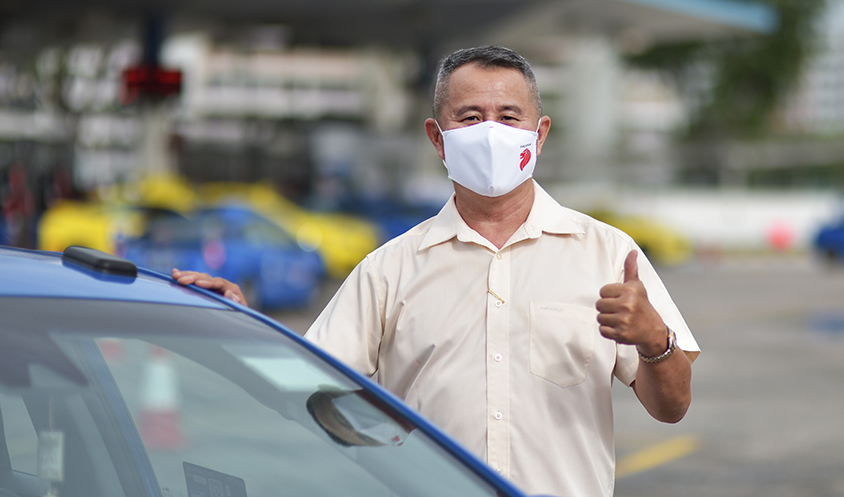 Targeted financial assistance for taxi and PHC drivers
Between February and December 2020, eligible taxi and PHC drivers received financial support through the Special Relief Fund of $10 per day. They also received additional relief through the Self-Employed Persons Income Relief Scheme (SIRS), administered by the Ministry of Manpower, between March and December 2020. When the SIRS ceased from 1 January 2021, we started the COVID-19 Driver Relief Fund (CDRF), a targeted scheme just for taxis and private hire car drivers, to replace the SRF and cushion for the cessation of SIRS.
More than 50,000 drivers have benefited from the SIRS, SRF and the CDRF. CDRF payouts were enhanced during periods of significant tightening of safe management measures and continued until January 2022.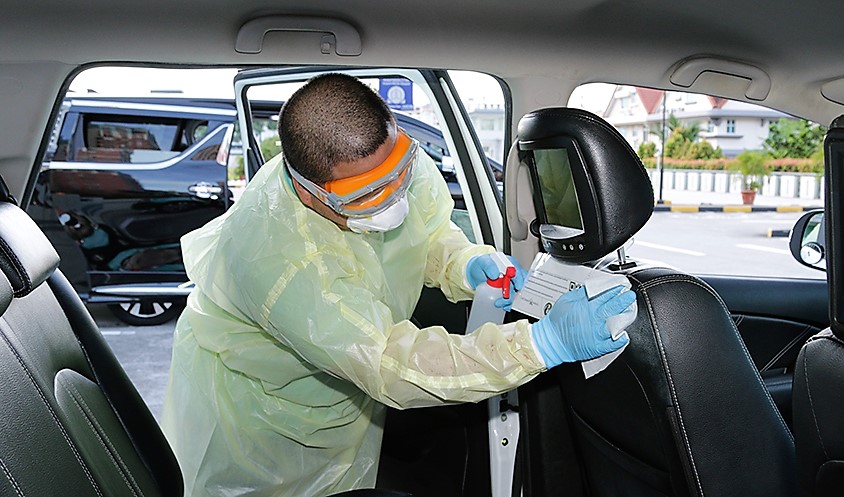 A Resilient Maritime Singapore Admist COVID-19
The resilience of Maritime Singapore has been put to the test by COVID-19. Our port remained open throughout the pandemic, through measures such as regular testing of maritime frontline workers and contactless operations. This allowed Singapore to access essential goods from around the world, and enabled us to continue to play our critical role as an international hub port that keeps global supply chains flowing. Singapore also recognised the vital importance of seafarers and maritime frontline workers. We supported international seafarers by facilitating crew change for seafarers who were stuck on board vessels beyond the duration of their employment contracts due to border and travel restrictions. We also prioritised our maritime frontline workers for COVID-19 vaccinations.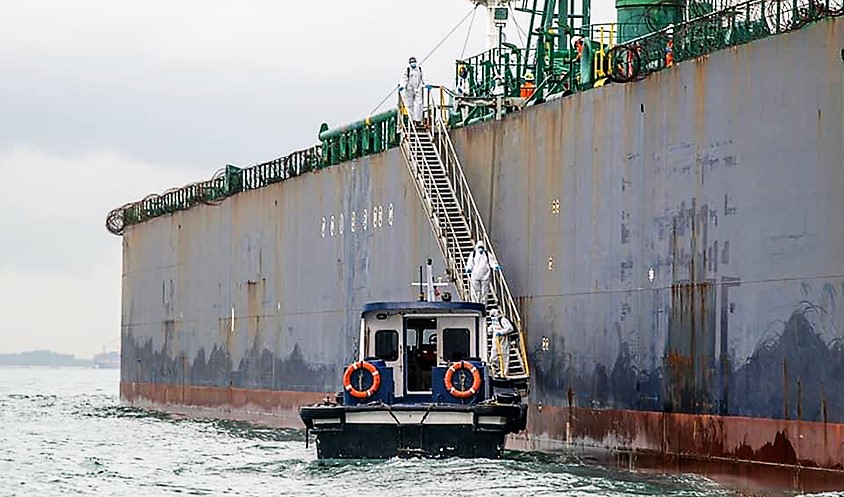 Vaccinated Travel Framework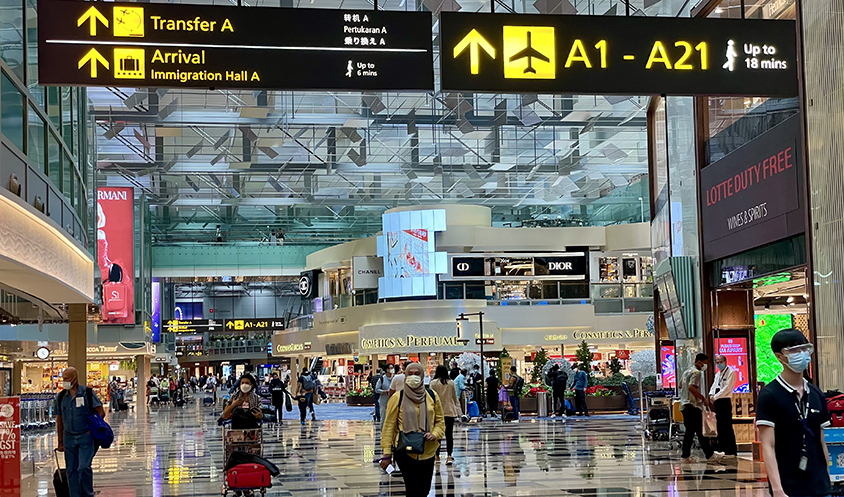 Between 25 August 2020 and 31 March 2022, we reopened our borders in a careful and calibrated manner through Vaccinated Travel Lanes (VTLs) and Unilateral Opening arrangements with partner countries and regions.
The VTL arrangements with 32 countries and regions served as an effective pathfinder for us to refine protocols, and to build public confidence in reopening our borders safely to fully vaccinated travellers. It has also allowed us to strike a balance to protect lives while safeguarding the livelihoods of our aviation workers and businesses, as we transited towards a COVID-resilient nation.

Since 1 April 2022, as part of a broader easing of COVID-19 measures in Singapore, we launched the Vaccinated Travel Framework (VTF), which reopened our borders to all fully vaccinated travellers. Under the new VTF, fully vaccinated travellers from the Singapore Ministry of Health's General Travel Category countries/regions can enter Singapore quarantine-free.

As of 29 August 2022, all non-fully vaccinated travellers entering Singapore will no longer be required to undergo a 7-day Stay Home Notice (SHN) upon arrival, nor take an exit-SHN Polymerase Chain Reaction (PCR) test. They will still be required to test negative on a Pre-Departure Test within 2 days before departing for Singapore.

The framework replaces all existing VTLs and Unilateral Opening arrangements, and facilitates a safe and seamless travel experience for Singapore residents and visitors to Singapore.

Even as we reclaim Singapore's position as a premier air hub, we will preserve our capacity and capabilities to respond quickly, should the COVID-19 situation change, to ensure public health.