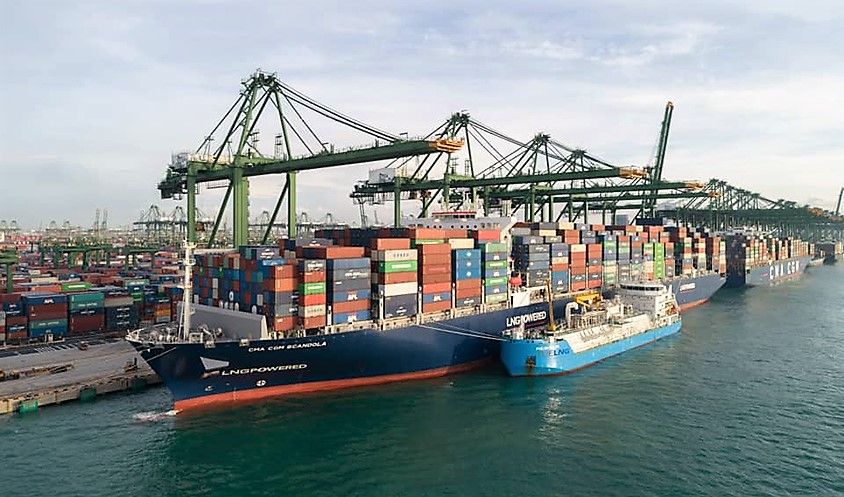 The imperative to grow our port, and develop our International Maritime Centre, must be accompanied by efforts to protect the marine environment and tackle climate change. For example, we conduct environmental impact assessments (EIA) before commencing development projects.
The Maritime and Port Authority of Singapore (MPA) has also worked with volunteers from environmental interest groups to relocate coral colonies to St John's and Sisters' Islands, to protect them from the impact of Tuas Port development. Globally, Singapore supports the International Maritime Organization (IMO)'s regulations to control pollution from ships. It has ratified every major IMO Convention relating to the prevention of pollution from ships.
To tackle climate change, worked actively with the IMO and other Member States to forge consensus in the adoption of the 2023 Revised Strategy for the Reduction of Greenhouse Gas (GHG) emissions from ships. Singapore supports the enhanced levels of ambition to peak GHG emissions from international shipping as soon as possible and to reach net zero GHG emissions by or around, i.e. close to, 2050, taking into account different national circumstances, and the indicative checkpoints for 2030 and 2040.
MPA has set a target for Singapore's domestic harbour craft sector to achieve net-zero emissions by 2050. From 2030, MPA will also require all new harbour craft operating in our port waters to be fully electric, be capable of using B100 biofuels, or be compatible with net zero fuels. Our port operators are similarly targeting net-zero emissions by 2050.
In 2011, MPA launched a S$100 million Maritime Singapore Green Initiative (MSGI). This programme was enhanced in 2019 to focus on the decarbonisation of ports and shipping. MPA works closely with industry partners, institutes of higher learning and organisations like the Maritime Energy and Sustainable Development Centre of Excellence and the Global Centre for Maritime Decarbonisation on efforts to develop, trial and deploy maritime decarbonisation solutions in Singapore.
The Maritime Singapore Decarbonisation Blueprint was launched at COS 2022, charting out our strategies and concrete targets to drive the decarbonisation of our domestic maritime sector, and plans for collaborations with researchers, industry and international partners to catalyse green shipping. MPA will update the Blueprint progressively in line with our climate change commitments.

You may also like